Salmon Cakes Recipe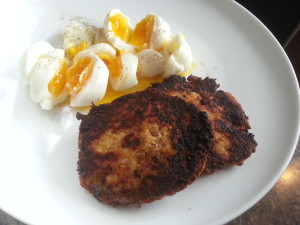 Looking for a Salmon Cakes Recipe so easy you'll wonder why you haven't had these before…well you found it and it's 100% paleo so let's get right into it…
Salmon Cakes Recipe
By BD Kenny Published: February 21, 2013
Yield:

3 Salmon Cakes (3 Servings)

Prep:

10 mins

Cook:

5 mins

Ready In:

15 mins
A quick and easy salmon cakes recipe so easy you'll wonder why you've never made them before.
Ingredients
Instructions
Open and drain your can of salmon and set aside.

finely chop up 1 small red onion

finely chop or squeeze through your press 1 clove of fresh garlic

Put chopped onion and garlic into bowl and add the can of salmon, the almond flour, the egg, Dijon mustard, S&P and zest from the lemon. Mix completely using a whisk and then form into three patties.

Add your olive oil to your frying pan and heat. Once oil is heated place the three patties into your pan flipping after about two minutes.

Place on plate and drizzle a bit of lemon juice and voila your ready to eat your simple Salmon Cakes Recipe.